Official vehicle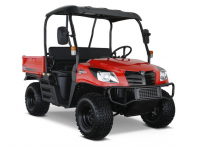 Introducing the official vehicle of the exhibition DemoGreen 2017 - all-terrain utility vehicle Kioti Mechron.
Kioti UTV Mechron
Tough. Reliable. And a heck of a lot of fun. There's a reason the MECHRON® is called the Ultimate Transport Vehicle™.
Main Features
Engine Gross Power: 22 hp
Transmission Type: 2 speed CVT
CVT with 4WD
Widest cargo bed in its class
Front limited slip differential
Rear mechanical actuated differential lock
Four wheel hydraulic disc brakes
Application

Filling out the application you express your interest in visiting the exhibition. Thank you.
Newsletter
Receive the latest news from DemoGreen direct to your inbox by subscribing to our newsletter.
Mini Skid Steer Vermeer CTX100

The CTX100 is equipped with exceptional lift and tipping capacities to efficiently transport materials on tough jobsites.

Slope tractor Sauerburger GRIP 4

Its hydraulic all-wheel steering with four different steering options allows very good maneuverability.

Mower Kneilmann Zaunkönig

Very powerful mower for grass underneath fences and all around posts of various circumferences, for loaders and tractors.

Electric utility vehicle Goupil G4

The Goupil G4 is offering superior comfort and performance and sets a new standard for electric utility vehicles.

Chipper Timberwolf TW 160PH

Compact, strong and fast chipper with elegant design on single-axle chassis, the maximum diameter of the inserted material up to 152 mm.