Official vehicle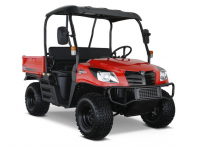 Introducing the official vehicle of the exhibition DemoGreen 2017 - all-terrain utility vehicle Kioti Mechron.
Kioti UTV Mechron
Tough. Reliable. And a heck of a lot of fun. There's a reason the MECHRON® is called the Ultimate Transport Vehicle™.
Main Features
Engine Gross Power: 22 hp
Transmission Type: 2 speed CVT
CVT with 4WD
Widest cargo bed in its class
Front limited slip differential
Rear mechanical actuated differential lock
Four wheel hydraulic disc brakes
Application

Filling out the application you express your interest in visiting the exhibition. Thank you.