Martin Komárek Stihl Timbersports Series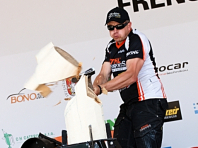 Introducing Martin Komárek, the best sport lumberjack in the Czech Republic in STIHL TIMBERSPORTS SERIES, vice world champion.
Multiple European champion and world championship medalist will participate in the exhibition DemoGreen 2017, where he will demonstrate his skill in an artistic chainsaw carving. Do not miss the opportunity to see this legend of the lumberjack sport live.

Martin Komárek then also be available to visitors at discussion about Stihl Timbersports Series, which will take place in the seminar tent on both days of the exhibition.
Personal records of Martin Komárek in STIHL TIMBERSPORTS SERIES

SPRINGBOARD
42,69 s
2008
EC-Quali
EUROPEAN RECORD
poplar
STIHL STOCK SAW
9,445 s
2010
U.S. Series

WORLD RECORD



pine
STANDING CHOP
18,20 s
2009

CZECH RECORD



topol černý
22,67 s
2008
EC-Quali

EUROPEAN RECORD



Weymouth pine

SINGLE BUCK
12,35 s
2014



CZECH RECORD



Weymouth pine

UNDERHAND CHOP
18,09 s
2012
WC

EUROPEAN RECORD



black poplar

16,11 s
2015
WC

EUROPEAN RECORD



black poplar

HOT SAW
6,26 s
2010



CZECH RECORD



black poplar

Disciplines Stihl Timbersports Series
Martin Komárek - STIHL TIMBERSPORTS SERIES
Application

Filling out the application you express your interest in visiting the exhibition. Thank you.
Newsletter
Receive the latest news from DemoGreen direct to your inbox by subscribing to our newsletter.
Mini Skid Steer Vermeer CTX100

The CTX100 is equipped with exceptional lift and tipping capacities to efficiently transport materials on tough jobsites.

Slope tractor Sauerburger GRIP 4

Its hydraulic all-wheel steering with four different steering options allows very good maneuverability.

Mower Kneilmann Zaunkönig

Very powerful mower for grass underneath fences and all around posts of various circumferences, for loaders and tractors.

Electric utility vehicle Goupil G4

The Goupil G4 is offering superior comfort and performance and sets a new standard for electric utility vehicles.

Chipper Timberwolf TW 160PH

Compact, strong and fast chipper with elegant design on single-axle chassis, the maximum diameter of the inserted material up to 152 mm.