Accompanying programme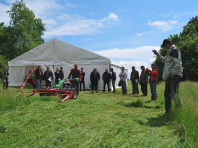 We are introducing accompanying program for the 4th exhibition DemoGreen.
For detailed information please visit Czech version of our sites.
Loaders centre
Great special area with terrain dislocations, where be located the bulk materials to work with a shovel, hay bales and pallets for loading and handling demonstrations and other materials.
SZUZ workshop
Lawn establishment will be one of the main themes of the demonstration area of ​​the Svaz zakládání a údržby zeleně in cooperation with company AGROCAR. Theory and practice at one time in one place.
Toro Sitework Systems
A special demonstration area of skid steer loaders Toro - a programme for gardeners and implementers. Each visitor will be able to experience working with skid steer loaders and trenchers in aggregation with a wide range of accessories.
Risk tree cutting
Roman Balšán and Marek Vidlák will demonstrate the news from tree cutting and tree climbing. Newly they will also introduce special equipment for the gradual tree cutting in extreme conditions.
Chainsaw carving Martin Komárek
The exhibition will be visited by a multiple medalist from the world championships of Stihl Timbersports, who will demonstrate his skill in chainsaw carving.
John Deere Gator ride
Competition for visitors in driving on the special track with off-road utility vehicle John Deere Gator.
Hultafors axe throwing
Competition for visitors will be designed according to international rules. Throwing from a distance of 6.1 meters at a target centered at a height of 1.5 m.
Lectures and workshops in the seminar tent
Football lawns
Current subsidy programmes
Lecture of The Faculty of Forestry and Wood Technology at Mendel University in Brno
Lecture of The CZ Biom (The Czech Biomass Association)
Track machines for remote control
Discussion with Martin Komárek
Application

Filling out the application you express your interest in visiting the exhibition. Thank you.